About Jamie Wong
I began Luxury Real Estate in 1998 with Geoffrey H. Edmunds, A Toll Brothers Company. My skillset and results were quickly rewarded achieving Rookie of the Year!  Toll Brothers provided extensive education of construction, and accountability.  Paired with work ethic and integrity I have now celebrated my 26th successful year within the Real Estate Industry.
2004 began the next chapter of my career joining the sales team at Pine Canyon, the private golf community in Flagstaff, Arizona. The Pine Canyon experience provided an opportunity to relocate to my home town and simultaneously obtain my Broker License while maintaining top sales within the group.  I have extensive knowledge of all Arizona real estate however, my focus primarily in  Scottsdale, Paradise Valley and Phoenix and Flagstaff real estate Flagstaff for 20 years. I am the number one realtor in Northern Arizona for four years straight while also remaining number 12 in all of Arizona (2023).  In 2012 I purchased my RE/MAX franchise, RE/MAX FINE LIVING.  2016, I was offered an opportunity to partner with Delbert Rounds, owner of RE/MAX Fine Properties.  RE/MAX Fine Properties acquired RE/MAX Fine Living in January of 2017.  We began a 850 Million dollar company, to 2.6 Billion as of 2021 and currently 2 billion as of 2022.
As managing partner for RE/MAX FINE PROPERTIES, my focus and passion remain providing excellence for clients, customers and colleagues.  I have continued to excel among all markets, Scottsdale, Paradise Valley and Flagstaff.   I believe if you achieve results within an industry you give back as a piece of gratitude therefore I coach, recruit and support our 330 professionals with my abundance of excitement and inspiration!  Our vision is to grow those within RMFP to their fullest personal and professional potential!  I live in a career where I do not feel a day at the office is a day of work.  Each day is an opportunity to learn and uplift those around me.  My priority will always be to deliver a trusted experience, deliver results to clients, friends and family. The achievement of 95% referrals within my business is nothing short of an honor.  
For those of you reading this who have conducted business with and through me, sincerely thank you.  I would like to deeply express to each of you, I know you have the option to work with many and I am deeply honored you selected me.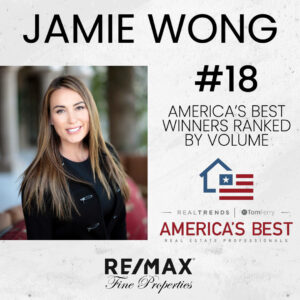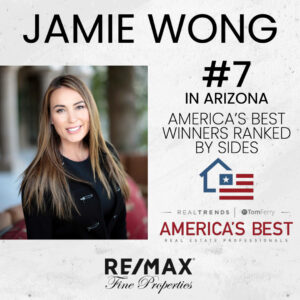 Jamie Wong's Current Listings